Is
Feidir
Linn- Yes We Can!
Obama came to Ireland this week- Apparently he has ancestors from the sleepy little village of
Moneygall
. I've been through the village a couple of times because it is on the bus route to Dublin. I have to say I don't remember it at all- its one of those "one-horse" kinda towns.
I listened to the radio in the morning before I headed to work and they spoke to one of
Obama's
relatives....his 8
th
cousin....
8

th
!!! Talk about distant. Honestly this whole ancestral connection to Ireland is more about tourism and publicity than it is about Obama finding his roots.
Despite all of this- I thought the visit was great! I thought it was really good for Ireland to have such a positive visit from the U.S. President. Obama gave a great speech and it was really uplifting for the entire country to hear the things that he had to say.
He spoke a little Gaelic which has now become something of a catch phrase over here- Is
Feidir
Linn-
Gaelic
for Yes We Can...the Irish have taken that and run with it
haha
!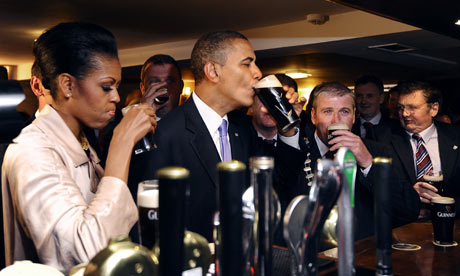 Here is
Barak
and Michelle having a pint of Guinness in a pub (perhaps THE pub) in
Moneygall
(notice how Michelle is having a half pint...I doubt shes much of a Guinness drinker
haha
)- apparently Obama drank his down in near record time- much better job than the Queen last week who only took a sip!
This was in the paper the day he was in Ireland....
Failte
Abhaile
means Welcome Home
And of course.....
The American flag on the reverse side! The real reason why I snagged the poster! I never brought a flag with me when I moved from home which I should have done- but now I have one so
alls
well!
This also brings to mind that I will be going home in about a week and I am so excited! We will be headed to
Florida
first and will be going on a western
Caribbean
cruise. We've never been on a cruise before and I'm kinda anxious but also pretty excited. I hear that after you've been on a cruise you never want to take a regular vacation ever again!
After the cruise we'll be driving up to Virginia to spend the last week with my family and going shopping....lots and lots of shopping. This will be my first time going to the states and exchanging money the fun way.....from euros to dollars. The exchange rate is about $1.40 to the euro so we will be getting a lot of bang for our buck. AND with the United States being
WAAAYYY
cheaper than Ireland we are going to get as much clothes shopping and supply shopping done as possible!
Also-
I'm
personally looking forward to really hot days and lots of sunshine. I'm actually looking forward to being uncomfortably hot and possibly getting
sunburnt
. Neither of these things happen in Ireland very often so I'm going to relish the opportunity back home!
At the moment though I'm still working near full time hours and trying to figure out what to pack exactly and what to bring home for everyone. I'm kinda starting to cut it a little close to leaving time but I'm sure everything will get done in the 11
th
hour....maybe.